DIGITAL FIELD CERTIFICATION
U.S. Patent No. D968,440 S
CONTACT-FREE... EFFICIENT... FAST...
OUR
NEW EXCLUSIVE

TECHNOLOGY
works to YOUR ADVANTAGE.
What is Digital Smoke School Certification?
Digital smoke school certification (aka digital field certification) enables smoke school students to complete field certification using a smart device. Students physically attend smoke school but are socially distanced and not required to manually sign in or use pens, pencils, clipboards, etc.
The digital certification process protects students during the time of the COVID-19 pandemic and is a more efficient and accurate approach to field testing.
DIGITAL CERTIFICATION
INTRODUCTION VIDEO
Play the video in full-screen mode for best results.
No-Contact. Digital Records.
Social-distanced classes AND digital records of test run data, certifications, and certification history.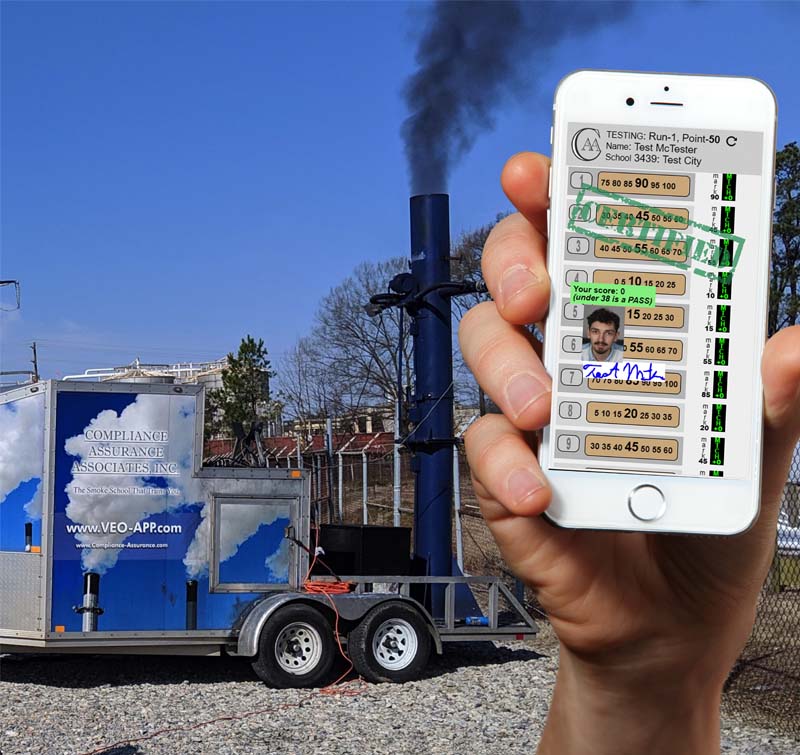 Mobile Check-In and Test Runs
CAA's new technology includes digital check-in, digital certification testing, and automated grading.
PREPARING FOR
SMOKE SCHOOL VIDEO
Play the video in full-screen mode for best results.
Less Waiting. Immediate Certification Proof.
Easy-to-follow interface for students. Digital certifications available immediately.
OUR SMOKE SCHOOLS DON'T SKIMP ON TRAINING QUALITY
CAA provides the most thorough opacity training to help our students understand the underlying principles and master the practice of reading smoke.



We Are Method 9. Done Right.
CAA is VEO.
ONLY visible emissions observations.
Click on the image below to see the complete PDF.